Everyone knows that when it comes to interior design, the 90's aren't exactly an era of inspiration these days. Sure we all love nostalgia and all that, but even my favorite decor staples of the past just don't have a place in my current home.
And to really drive the point home… Just think multi-colored sponge painted walls with a butterfly wall paper border. That was my childhood room that I so proudly helped "design" and sponge-paint myself.
But now, the older, more boring me no longer relies on "hippie beads" as an accent. My go to texture is not toole. And fushia + gold + black are now on my "eww" color combo list.
Those things should never go together you say?? Well my college self thought differently…. *CRINGE!*
But now, having been able to get out my streak of designer fau paux's on four different college living spaces and a crummy old apartment as a newly wed, I feel confident enough to share what I've done with my current house so far and yet not having to fear being completely laughed off the internet.
I admit that when I started out on the adventure of restyling our 90's home I had some pretty far-fetched and just plain silly expectations. But can you really blame me when we live in an era where clean color palettes and muted hues rule the scene and DIY-ers preach to the masses that you can just slap some paint on it, install your own crown molding, and WHOA LA! You have a beautiful white and airy re-imagined space…..?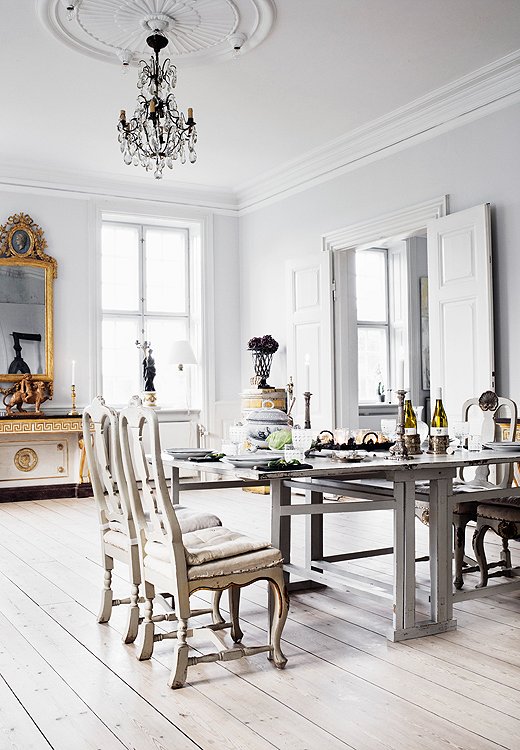 In reality, more of us live in an a house that starts out a little more like this…
Not too terrible, but also not so special either….And of course it would take a lot more than a bucket of white paint and my shaky DIY skills to transform this into something you could consider covet-worthy in an aesthetic sense. But at the time we bought it….? Well no one was going to tell me and my newly ordained home-owner self that it couldn't be done!
Fast forward a year and a half after moving in, plus one baby later, and my outlook on house projects has slowed its roll a bit. But you know what? I'm OK with that. Also, I kind of have to be because of things like you know, my job, our tiny budget, oh, and that baby wondering around here. But at the risk of sounding lazy, I have to confess that once I came to peace with the fact that my house had a soul of it's own that I was not going to be able to get rid of, it was actually really nice to be relieved of dreading the gargantuan task of transforming ALL THAT OAK.
Plus besides that, a huge element of design is texture and I've really grown to love the texture and warmth that wood brings to our home. I'm so glad I didn't rush in and paint over every wood surface in a frenzy. Now I can appreciate the mix of a few smooth white painted surfaces that are balanced with warm, grainy wood throughout. Honestly, if I could design my own dream home, it would have plenty of natural wood… just a lot less orangey than 90's oak, that's all.
So how did we start to transform our house from a complete 90's interior to something that feels more "us" while at the same time NOT losing our minds in the process…?
Well first of all, it's still very much a work in progress. But I pretty much just employed the same tactic that I do for nap time: Pick what will have the biggest impact on my day (or in this case, house) and then knock it out. Also a good way to get things rolling if you are a little gun shy with that paint brush. Just pick something that has been irking you the most, and/or what you feel would give you the biggest bang for your buck in terms of impact, and go for it! If it's something you look at every day, changing it up even a little bit can make a huge difference.
That's what we did anyhow!
The results:
To get rid of the random mauve/maroon/blue-ish looking stones, we first gray-washed the whole thing. Then we painted the oak mantle and added corbels. It doesn't seem very labor intensive, but we paced ourselves over the course of a month (yes it really took that long), and only tackled steps when we could.
Step-by-Step Fireplace Transformation
Gray-wash the Field Stones

Prep the stones by cleaning with water & TSP
Paint the stones with a 50/50 mixture of gray chalk paint/water
Let it dry
Paint over the stones again with a 50/50 mixture of white chalk paint/water
Let it dry
Scrub! Scrub! Scrub! Using water & TSP

Update the Wooden Mantle

Sand the mantle
Paint the mantle with 2-3 coats of primer, 2 coats of white paint, and 2 protective finish coats, lightly sanding in between every coat
Paint and seal the corbels
Attach corbels using wood glue and extra large clamps
Prepping the Stones
TSP is a cheap cleaning solution in powder form that will get the grime off the stones without leaving a residue. I mixed a batch with water, scrubbed the stones with a large scrub brush, and then made a new batch any time the water started looking murky.
Painting the Stones
Before I even bought any paint, I did plenty of research on how other people DIY-ed their fireplaces. The most important factor is to use chalk paint and NOT a latex based paint. The magic of the chalk paint/water solution in this project is that it is less opaque to begin with which lends itself to a more natural finish and it can somewhat be removed with water and scrubbing, giving it even more of a natural/less painted-on look.
With that said, don't feel the need to use an expensive brand of chalk paint unless it happens to carry a specific shade that you want to use. I chose Country Chic Chalk Paint in Pebble Beach (a neutral grey), and Simplicity (a pure white) because I liked the shades of course but also because they were on sale!
If I were to do it again, I would love to try out "Sunday Tea" as the base color just to warm things up a bit. Once I added the white over the pebble beach, it seemed to give off more of a cool tone but it totally works in our space and I love it!
When the first coat of paint mixture had been applied and dry, I painted over that with the mixture of white chalk paint and water. While applying the coats of liquid-y paint worked fine with a paint brush, I had to keep an old towel in one hand to blot off any drips.
Scrubbing the Stones
This step came about totally by accident and it was really only out of desperation that I tried it at all. The other DIY-ers I read up on ended their projects with the coat of white pain and never looked back. And you know what?… Their end product looked lovely!
(White-washed Stone Fireplace by Life on Virginia Street)
(White-washed Stone Fireplace by Coastal Collective Co)
But when I got to the last step on mine where the stones were completely white-washed, I hated it. It just looked so out of place in our house.
After an embarrassing display of a grown up temper tantrum (i.e. throwing down my paint brush and stomping off to the kitchen to open up a bag of chips and feed my hanrgy) I figured out what I didn't like about the newly white-washed fireplace….
Problem #1: Too fake looking
The original stones were somewhat unnatural colors of pink, maroon and blue to begin with, but at least before there was a variance between all the stones and within each stone itself which gave it a somewhat natural look. Now everything looked opaque, totally flat, and white.
Problem #2: Too much white
All that white could look great in a modern home, or a home with more of a coastal vibe. But for our woodsy Wisconsin home, the feel of the floor to ceiling white fireplace was totally out of place. (sorry no pics of how it looked at this point… I was that discouraged to document any of it.)
Enter the scrub brush
Seriously. It was that simple! It did take a LOT of scrubbing (about a day and a half worth) but we set out two buckets of water mixed with TSP and Pat helped scrub the upper section while I tackled the bottom half. It was actually the most rewarding part of the project and with each stone looking more and more life-like as we went, that was all we needed to keep us going.
Of course you can scrub as much or as little as you like until you get the look you want, but it also depends on what the kind of stones or brick you started with looked like. For this reason I definitely recommend doing one trial stone first before jumping in on the entire project from start to finish.
Once all of the stones were scrubbed, they looked like they were naturally weathered, and I'm in love.
But wait… There's more!
On to the mantle….
Sanding the Mantle
Pat used an electric sander to completely remove the stain and expose the bare wood of our mantle. You could skip this step and just use a good primer or rough up the top coat with a sanding block, but I wanted to minimize the look of the oak grain as much as possible so starting with the bare wood was the way to go for us.
Priming the Mantle
I actually went kind of overboard on this (again, to minimize the grain) and used 3 coats of primer, while sanding by hand in between each one. If the grain doesn't bother you though, 1-2 coats would suffice. I used this Zinser Primer because it specifically seals in the tannins of the wood/stain and keeps the orange color from seeping through the clean bright white paint.
Painting the Mantle
I painted 2 coats of Country Chic Chalk Paint in Simplicity (since I already had some on hand) and again sanded in between coats. By this step in the process the wood grain finally started to disappear, and boy was that exciting.
If you've done any kind of research on making over wood pieces, I'm sure you're already well aware of how polarizing a topic chalk paint can be. It seems like most DIY-ers either love it or hate it. Me, I've used regular latex paint before for a similar job and thought it did fine. BUT, chalk paint is almost orderless, plus VOC free. A major plus in a household with a baby and another one cooking. Country Chic brand was more affordable than some of the other brands, plus their All-in-One Decor Paint doesn't require any sort of top coat.
Applying the Protective Finish
Even though a topcoat wasn't necessary with the type of chalk paint used, I wanted a satin finish on the mantle to offset the look of the roughed up stone. Plus I REALLY wanted to protect our newly painted mantle from chipping, scratching and fading. (Especially considering how many times a year I plan on moving around the seasonal decor on top, teehee!)
After doing a quick google search, I chose a polycyclic water-based top coat (oil-based top coats aren't compatible with chalk paint) I painted two top coats and again sanded in between layers.
Prepping and Attaching the Corbels
You can easily get corbels from Home Depot, Lowes, etc. but I found the best prices on Amazon. These are the exact Ekena Millwork corbels we used. The edges can easily get nicked during shipping, and we did receive one that was slightly dented but it was easily exchangeable. For any other minor imperfections in the wood, I just spot sanded around that area.
Since the wood is bare it's not necessary to prime, but I felt better doing so to again – hide that wood grain!
It took 3 more coats (one white coat, 2 top coats) and then they were read to be attached.
For this part we literally just used wood glue on the top of each corbel and then secured it (one at a time) to the bottom of the mantle with a giant clamp until the glue was dry. It was so easy… seriously a rookie DIY-er's dream come true.
And there you have it! Our house feels just a little more "me", a little less 90's, and no one gets smacked in the face with the overwhelming tackiness of my younger decorating self when they walk in our front door. Ahhh, so nice to be adulting this time around.